ABOUT WALLY'S
Transform your living space with WALLY'S unique and modern wallpaper collection! Our exclusive designs will bring life and style to any room. Whether you're looking for a subtle pattern or a bold statement, we have something to suit your interior design needs. With WALLY'S, you can easily turn your home into the perfect reflection of your unique taste and style.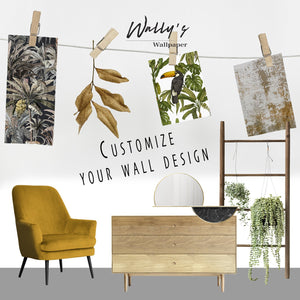 CUSTOMIZE YOUR WALL
 Say goodbye to the hassle of trying to make wallpapers fit your wall exactly. We are like tailors — we will tailor the wallpaper to perfectly fit your wall, just provide us with the measurements you need. Plus, you can choose from our catalogue of your favorite designs and themes to personalize your wallpaper.
Create a unique, personalized look for your walls without spending hours and money on trial and error. And rest assured that it will fit perfectly on your wall.
Order now and get the perfect wallpaper for your wall in just a few clicks! Turn a blank space into a wishful dream-like atmosphere!
HOW TO CUSTOMIZE?
ABOUT THE MATERIAL
Used for the production of materials have the following properties
Wallpaper on non-woven Simplicity and ease of installation.
Wallpaper width is 105 cm, it comes in panels for easy hanging.
Eco Friendly-ink
Fire safety (Grades G2, KM2) Dimensional stability - no shrinkage and deformation Environmental safety Brightness, color saturation, correct color reproduction Guarantee from fading – at least 5 years under the direct sunlight Durability Wallpaper can be washed, resistant to mechanical damage. Weight — 280 grams per meter squared.
An International Wallpaper Design Company Based in Egypt
We are an international design company based in Egypt. We provide unique wall murals to your hearts content. Choose from our designs or customize your own wall covering that fits your imagination. Decorate your internal world with Wally's designs.
FIND US
Our catalogues are available @
1. Amsol Showroom - Galleria 40 El Sheikh Zayed - Ground Floor +20 127 265 6514 Amsol.
2- Seda Fabrics - Arkan Plaza, Downtown Katemeya, Nehro Heliopolis
3. Abstract eg- 010 223 332 63  
Sunday is off.
Location: Beside Point 90 mall, 5th Settlement, Cairo, Egypt 
https://goo.gl/maps/7tx4iJrAuWSpr9Sg8
4. Motif-36 Kafr Abdo street , Roushdy , Alexandria , Egypt